Every time someone asks me for information about Naples, I always recycle the same email… Finally, I have everything in order.
When to go: from mid/late September to the end of May. During the Christmas holidays is fine, but it gets too crowded.
Where to stay. In green, okay. In red, absolutely NO. The other areas seem close, but in reality, they are far up and far away from everything.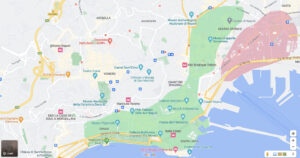 What you can't miss in Naples:
Napoli Sotterranea (Naples Underground)
The tunnels of Napoli Sotterranea extend to various depths, some up to 40 meters below the current ground level of the city. It's an authentic underground network that stretches for about 80 kilometers, although only a part of it is open to the public.
napolisotterranea.org
laneapolissotterrata.it
These two are the most recommended. To choose between one or the other, I would go to San Lorenzo Maggiore.
Cimitero delle Fontanelle and the Catacombs
The Cimitero delle Fontanelle is a cemetery known for its arrangement of bones and sculptures made from them. The Catacombe di Napoli is a network of underground tunnels containing tombs and human remains, with historical and religious significance related to early Christianity. Each one has its uniqueness and is worth visiting to discover their peculiarities.
cimiterofontanelle.com
catacombedinapoli.it
If you have limited time, choose one or the other.
There are nearly 500 churches in Naples. The three that you can't miss are:
Duomo di Napoli
The main church of the city, where the Capella del Tresor de Sant Gennaro (Chapel of the Treasure) is located.
Santa Chiara
An important monastic complex that includes the church and a cloister with impressive frescoes.
Chiesa del Gesù Nuovo (right in front of Santa Chiara)
A Baroque church known for its stunning facade and red domes.
Cappella San Severo
If there's no queue, it's worth it. If there's a queue, keep in mind that it's only for the chapel with the Veiled Christ.
What I love and would take everyone to see is this: Parco archeologico del Pausilypo
You need to take a taxi there and ask for a return pickup as well, as I have no idea how to get there by public transport (if it exists).
You can go up to the Certosa di San Martino with the Funicolare Centrale. The views are spectacular.
A nice walk to see the city is from Piazza Amedeo, going down via dei Mille, Piazza dei Martiri, to see it, and then returning via Chiaia to Piazza del Plebiscito, the Galleria, via Roma, via Toledo, Piazza Dante, Piazza Bellini, and going down Spaccanapoli, all the way to San Domenico Maggiore and then San Gregorio Armeno.
You should also go to Via Caracciolo to see Castel dell'Ovo from the outside. The visit, if it's still available, I don't remember it being particularly interesting.
For food, you can eat anywhere. The food is good everywhere. It's been too long since I've been there trying different restaurants, so I can't give you specific recommendations. I would avoid overly famous places like Sorbillo and others because you don't need to wait in line to eat pizza.
As a general tip: walking is faster than taking the metro. There are some metro stations worth seeing because they're new, but the metro runs every 15 minutes, if you're lucky, and it might not have air conditioning. The Via Toledo station is perhaps the most spectacular.
And if you have time:
Museo Archeologico Nazionale di Napoli, where you can find an extensive collection of Roman artifacts and remains, including the famous frescoes from Pompeii and Herculaneum.
The Maschio Angioino, also known as Castel Nuovo, is an impressive medieval castle located behind the Royal Palace.
To go to Pompeii, you can take the Circumvesuviana, which you can catch at Piazza Garibaldi. It's an old train and very unreliable. I know there's a tourist train that goes directly to Pompeii on the same line: I recommend getting a guide. In a group, you pay (in cash) €15 per person, don't get fooled.
Ercolano is also very worthwhile.
Amalfi Coast: Don't go. You need to go off-season, with your own car, and for a couple of days, otherwise, it's not worth it. If you do go, stop by Ravello, Villa Rufolo​. Sorrento and Capri, same thing.
Unmissable for me, but it's another trip, Paestum: and while you're there, visit Tenuta Vannulo.
Have a great trip and send photos!
T'ha agradat? Comparteix-ho!